Level up your active mobility game
A library of actionable information for cities and operators to design and perfect their active travel schemes
Hot off the press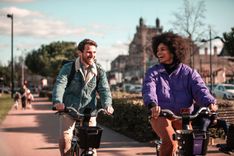 5 Steps to Launch a Bike-Sharing Service in Your City
More and more medium-sized cities are becoming interested in bike-sharing. Here's our guide to building a successful scheme.
See all guides
9 Ways to Boost User Retention in Micromobility
If you're an operator looking to improve user retention and loyalty, this one's for you! Here are 9 concrete ways to boost user retention with real-life examples.
See all guides
Be the first to know about the insights we have from operating 50,000 bikes in 25+ cities across the globe