A new deal
The electric bike station, by Fifteen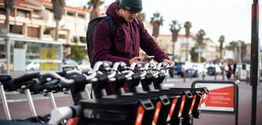 The Fifteen charging station with its single docking system is revolutionising access to electric bike-sharing schemes. Since it is more lightweight, easy-to-deploy and maintenance costs are lower, electric bikes can be installed in any region. It's smarter – it adjusts the charging to meet the needs of the bikes and predicted demand.
A single terminal for 10 bikes.
Short and long term bike rental
Smart charging and a range of power supply options
Quick to install and easy to move
Short and long term rentals
You just choose, the Fifteen technology will do the rest.
Auxerre (France)

Self-service short- and long-term rentals
From 2023, the Auxerrois Conurbation will offer its inhabitants a network of self-service electric bikes available to rent for one-off trips or to book for private use for several months.

Electric bike stations have been installed in all the conurbation's towns to give residents fully independent access to this mobility option, at any time.
Find out more
Nouvelle-Aquitaine region (France)

Short and medium term rentals, at train stations and in town centres
Based on a model which has seen the bike achieve 29% of modal share in the Netherlands, the Nouvelle-Aquitaine Region is seeking to go further by offering passengers on the TER Royan-Angoulême line a low-carbon mobility solution for the initial and final phases of their journeys.

This is even better than in the Netherlands as the bikes are electric bikes and pick-ups and drop-offs are all managed independently through a mobile app.
Find out more
Marseille (France)

Self-service electric bikes, short-term rental
The Aix-Marseille-Provence Metropolis (AMP) is very ambitious to develop active transport modes in its area.

So when it was upgrading its self-service cycling provision, AMP made clear choices: wider coverage, more stations, electric bikes only and a modern rental experience.
Find out more
Soon to be deployed

Self-service electric bikes, long-term rental
Long-term rental options have proved highly effective in less densely populated areas.

With the Fifteen electric bike and a lightweight self-service terminal, smaller urban areas can offer electric bikes for long-term rental, with minimal operational management.
Which Fifteen electric bike service will you use?
Frequently asked questions
Who is the Fifteen ultra-compact station for?
The Fifteen ultra-compact station enables self-service electric bike rental services to be deployed in any type of area. The Fifteen charging station targets both large cities, where several hundred charging stations will be installed, and small towns seeking to offer their citizens an electric bike service for long-term rental with minimal management through self-service distribution. The Fifteen ultra-compact station is lightweight and compact, making it the ideal choice for local authorities.
Further information on the Fifteen charging station can be found in the blog article "Bike-sharing in Marseille: the flexible choice".
What are the advantages of the Fifteen station over other solutions?
The Fifteen self-service electric bike station stands out from other solutions because of its lightness, low associated investment costs, and a global security system that relies on software intelligence to prevent possible damage. Its system of electromagnets prevents damage to the bike if it is pulled out of its dock. With its electronic motor lock, which is tamper-proof, a bike that has been pulled out of the its dock is unusable. The bike is permanently connected, so it can be geolocated at all times.
Where are the ultra-compact charging stations already deployed?
More than 500 Fifteen ultra-compact stations have been deployed or are currently being set up and distributed within a range of services such as the self-service electric bikes of the Marseille Metropolis, the Saint-Etienne Metropolis, the Epinal Conurbation, electric bikes at train stations in the Nouvelle-Aquitaine Region and the augmented cycling network of the Auxerrois conurbation, combining short- and long-term rental.
For more information on combined short-term and long-term rental deals, check Augmented Bike Networks.
How much does the Fifteen charging terminal cost?
The Fifteen charging terminal offers significant investment savings compared to an individual docking system. At the same time, the inconspicuous design of the station equipment limits the risk of damage and the associated repair costs. For further information on the price of Fifteen self-service electric bike terminals, please contact us.
Can an electric bike service be operated without charging stations?
With geolocation, continuous connectivity and a removable battery, the Fifteen electric bike can be operated with and without charging stations. For reasons of operational efficiency, Fifteen recommends lightweight charging stations with the capacity to charge up to 10 electric bikes on the equivalent of a single car parking space. If there are no charging stations, the operator can replace the batteries directly in the field and ensure tidy parking thanks to the creation of virtual charging stations directly in the Fifteen Control management interface.
Get up to speed with the Fifteen electric bike.
Have questions about Fifteen's systems? Talk to our experts.
Contact us